What a huge learning curve to realise 'a good idea' – a year and a half ago we sampled in Holland and UK to see how my 3d photographic images would look digitally printed on cotton. I was so excited to see the first sample roll come in vibrant and real… and expensive. My hardest decision was choosing 3 designs out of my optimistic 10, to appeal to all. I had to drop my favourite pink+green, and leave the Jeff Bridges Sunshine Shirt design for another run…

Then it was endless testing and sampling. Testing size and colours of logo, size of image for your body, material weights and flow, sewing finishes, bright colours, background whites, saturation v tone, how to fold to deliver, amending files for another's machine, small production possibilities v import costs and customs…backwards and forwards via couriers in hot countries, waiting, just 2 of us driven creatives with a creative idea between Amsterdam and West Coast Scotland.

Meeting our sarong producer at the Frankfurt Heimtextiel Fair, overwhelming for non textile designers.

We decided we would print a wash-care label to tell our message clearly; 4 succinct lines to tell the story on 100% cotton: beach clean designs: of plastic ocean trash: say no to a plastic sea: letsgotothebeach.org 

More sampling for better cotton and no chemical wash while watching nervously to see if we'd reach our Kickstarter Crowd Fund goal…

…so many samples… we were persistent, determined, believing; you have to be…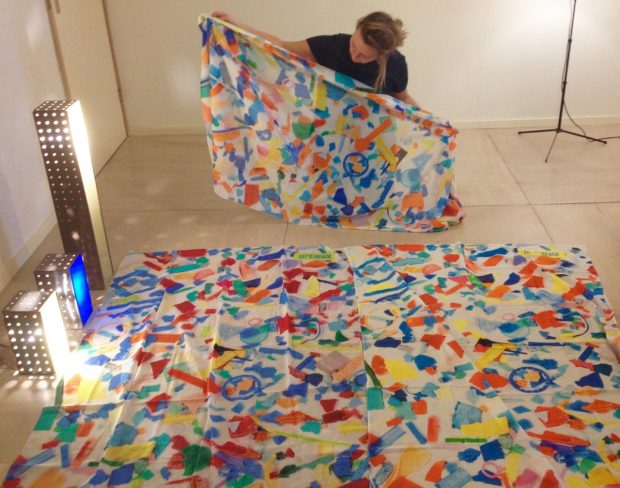 until finally our very first letsgotothebeach production arrived, a little delayed but still in time for summer, made possible by our brilliant crowdfunders; thank you!